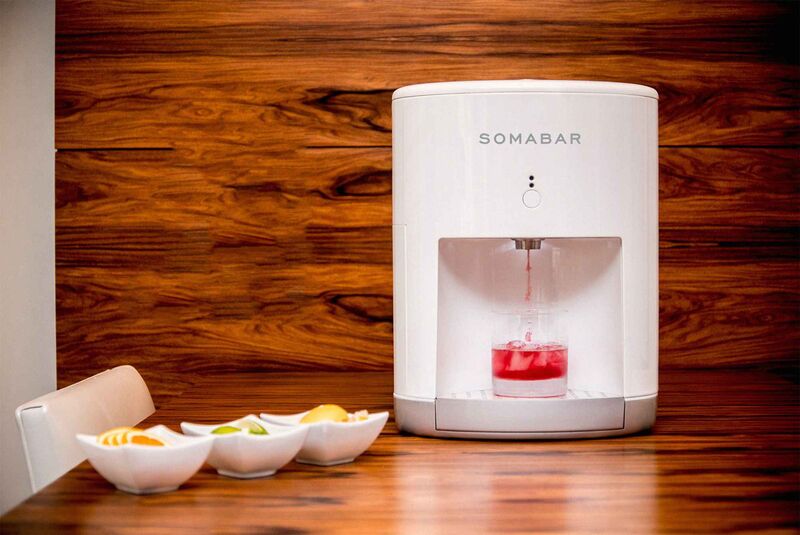 Industrial-size robots have been serving cocktails on cruises since 2014, thanks to Makr Shakr, a company created by MIT professor Carlo Ratti. Now, a tabletop cocktail bot from startup Somabar is headed for restaurants, bars, and lounges and may replace hotel room minibars.



The Benefit:

Makr Shakr's robotic arms pull cocktail ingredients selected via touchscreen or app from a network of bottles above the bar. Its creators say the machines can work in places without bartenders, help humans handle busy rush hours, and eventually do more. "Bartenders will one day be replaced," says Somabar Chief Executive Officer Dylan Purcell-Lowe. "Without a doubt."



Innovator:


● Dylan Purcell-Lowe
● CEO and co-founder of Somabar
● Location: Los Angeles



Augmentation:

Purcell-Lowe sees Somabar initially as a tool for busy bartenders and waitstaff, mixing simple cocktails in 5 to 10 seconds so workers can focus on more complex drinks.



Origin:

Purcell-Lowe began thinking about automating cocktails while studying political science and business at Occidental College in 2011. He and co-founder Christopher Hameetman raised about $300,000 on Kickstarter in 2015 to develop a consumer robot; Somabar's commercial version now has about $1 million in preorders. The company expects to ship to about 10,000 hotels, restaurants, and bars by the end of 2018.



Challenges:

Makr Shakr's industrial robots, which can slice limes as well as mix drinks, require a trailer full of gear and a custom-built bar. (The company says its lease and purchase prices vary according to customer need and location. It plans to launch a smaller, cheaper version next year.) The $2,000 Somabar can only mix drinks and doesn't work with bottles.



The Verdict:

A 2013 Oxford study said bartending had a 77 percent chance of being obsolete in the next decade or two. How close are we?
Daniel Wilson, a roboticist who authored the best-seller

Robopocalypse

, says bartenders' jobs will be safe as long as their social skills keep people drinking. Even Purcell-Lowe says fully automated bartending is a ways off.
For now, he says, "we are simply enhancing efficiencies."